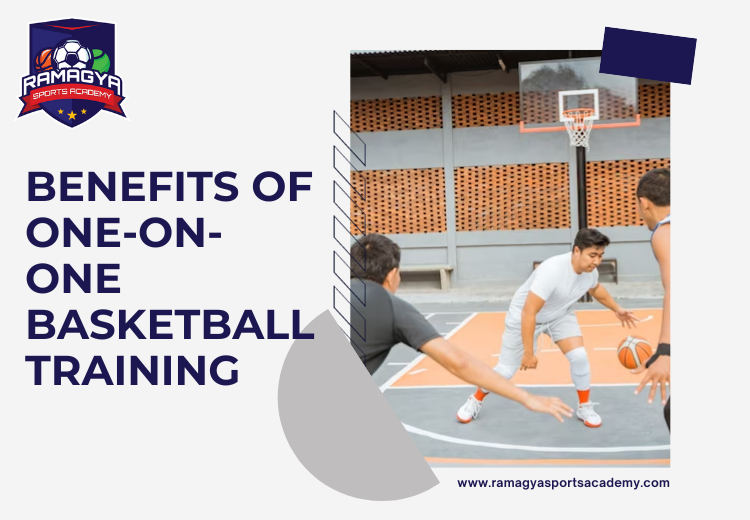 In the realm of sports and fitness, basketball holds a special place. It's a game of agility, strategy, and precision that has captured the hearts of millions. Whether you're a budding athlete, a passionate enthusiast, or simply looking to embrace a healthier lifestyle, basketball training can be your gateway to a world of physical and mental benefits. In this blog, we'll explore the advantages of one-on-one basketball training, emphasizing its impact on your fitness journey. So, let's lace up our sneakers and dribble right in!
Benefits of Basketball: More Than Just a Sport
Basketball is more than just a sport; it's a dynamic and fast-paced activity that offers a multitude of benefits:
Physical Fitness:

Playing basketball is an incredible cardiovascular[1] workout. It enhances your endurance, burns calories, and builds muscle strength. Running up and down the court, jumping to make a shot, and defending against opponents improve fitness levels.

Coordination and Agility:

Basketball requires precise hand-eye coordination. Dribbling, passing, and shooting involve intricate movements that enhance coordination and agility.

Teamwork:

Being part of a basketball team fosters camaraderie and teamwork. It teaches you how to communicate effectively, cooperate with others, and strategize as a group.

Mental Toughness:

The game is mentally challenging, requiring quick decision-making, adaptability, and resilience. These qualities extend beyond the court and can be applied to various aspects of life.

Stress Relief:

Engaging in basketball helps reduce stress and anxiety. This intense physical activity releases endorphins, which are natural mood lifters.
One-on-One Basketball Training: A Personalized Approach
While team play has advantages, one-on-one basketball training offers a personalized and tailored experience that can take your game to new heights. Here are the benefits:
Individualized Attention

: In a one-on-one setting, you receive undivided attention from the coach. This setting means personalized feedback, customized drills, and a focus on your specific strengths and weaknesses.

Accelerated Learning

: With targeted guidance, you can progress faster. Individual training allows you to work on specific skills and areas that need improvement, resulting in accelerated growth.

Enhanced Confidence

: As you see improvements in your game, your self-confidence significantly boosts. This newfound confidence extends beyond basketball and positively influences other areas of your life.

Tailored Workouts

: One-on-one training allows the coach to create workouts that align with your fitness goals. The training can be customized to enhance your shooting accuracy, defensive skills, or overall athleticism.

Flexible Schedule

: Unlike team practices, one-on-one sessions often offer more flexibility in terms of scheduling. Such sessions ensure that your training fits seamlessly into your routine.
The Impact of Basketball on Physical Fitness
Let's take a closer look at some statistics that underline the remarkable impact of basketball on physical fitness:
Calorie Burn:

 A one-hour basketball game can burn between 630 and 750 calories, depending on factors like body weight and intensity of play.

Cardiovascular Health:

 Basketball is a rigorous cardiovascular activity. It elevates the heart rate and helps in improving cardiovascular health, and as a result, reduces the risk of heart disease.

Muscle Engagement:

 Playing basketball engages multiple muscle groups, including the legs, core, and upper body, which leads to improved muscle tone and overall strength.

Endurance:

 The constant movement on the court builds endurance. Players learn to push through fatigue, an essential skill in sports and life.
Ramagya Sports Academy's Collaboration with NBA Basketball Academy in Noida
One critical factor that separates Ramagya Sports Academy's Basketball Academy is our collaboration with the prestigious NBA Basketball Academy in Noida. This collaboration brings unparalleled expertise, training methodologies, and exposure to our basketball enthusiasts. It's an opportunity to learn from the best and train with a world-class curriculum.
Elevate Your Game with One-on-One Basketball Training
Basketball is not just a game; it's a lifestyle that promotes physical fitness, mental resilience, and personal growth. One-on-one basketball training takes this experience to the next level by providing personalized coaching, accelerated learning, and enhanced confidence.
Join us at Ramagya Sports Academy and participate in a transformative journey through one-on-one basketball training. Whether you're a novice looking to start your basketball voyage or an experienced player aiming to refine your skills, our academy, collaborating with the NBA Basketball Academy, is the ultimate destination for elevating your game. Step onto the court, and let's dribble toward a healthier, fitter, and more confident you.