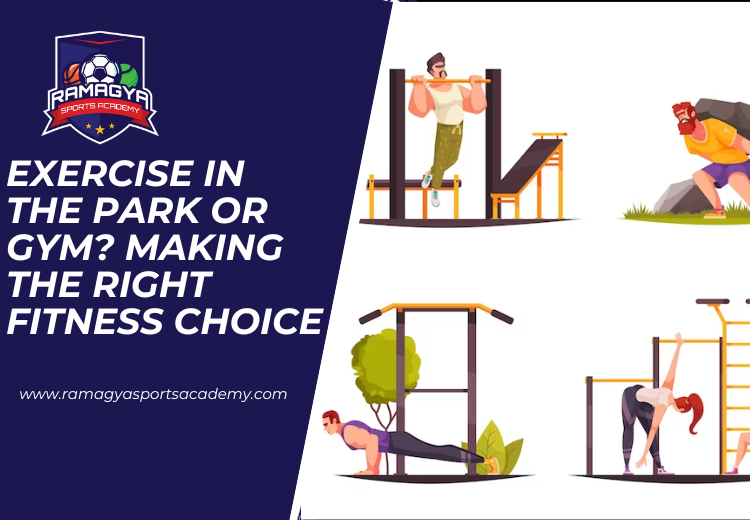 The debate between exercising in the park and hitting the gym has been ongoing for years. Both options have their merits and cater to different preferences and goals. If you've been a fitness enthusiast or just starting with your journey towards a healthier lifestyle, choosing between exercising in the park and the gym can significantly impact your fitness routine. In this blog, we'll explore both benefits and help you make an informed choice.
Exercising in the Park: Embracing Nature
Exercising in the park offers a unique blend of fitness and nature. The park provides an open, green space where you breathe in fresh air and soak in the beauty of your surroundings. Here are some key advantages:
Fresh Air and Vitamin D

: Parks offer abundant fresh air and natural light, ensuring you get that daily dose of vitamin D. This can help boost your mood, energy levels, and overall well-being.

Cost-Effective: Most parks are free to access, making it a cost-effective fitness option. You won't need to pay for a gym membership.
Versatility

: Parks often have various fitness equipment, walking trails, and open spaces for different types of exercises. You can switch up your routine quickly.

Social Interaction

: Exercising in the park can be a social experience. You might meet fellow fitness enthusiasts or even join group fitness activities.
Exercise in the Gym: Controlled Environment
While parks offer a fantastic outdoor experience, gyms provide a controlled environment for your workouts. Here's why many prefer the gym:
Variety of Equipment

: Gyms have a wide range of exercise machines, free weights, and specialized equipment. This variety allows you to target specific muscle groups effectively.

All-Weather Access

: Unlike parks, gyms are accessible year-round, regardless of weather conditions. This consistency can help you stick to your fitness routine.

Professional Guidance

: Many gyms offer the expertise of certified trainers who can create personalized workout plans and provide guidance on proper form and technique.

Privacy and Focus

: Gyms offer a degree of privacy that allows you to focus solely on your workout. It's your personal space to concentrate on your fitness goals.

Hygiene and Convenience

: Gyms maintain cleanliness and provide amenities like showers and changing rooms, making it a convenient choice.
The Decision: Park or Gym?
Fitness Goals:

Park

: If your fitness goals revolve around improving cardiovascular health, enjoying the outdoors, and reducing stress, exercising in the park might be your ideal choice. Running, cycling, yoga, or bodyweight exercises in a natural setting can align well with these objectives.

Gym

: For those aiming to build muscle, increase strength, or engage in specific resistance training, gyms provide a wide range of equipment to help you achieve these goals effectively. The controlled environment is particularly beneficial for structured weightlifting and bodybuilding programs.

Lifestyle and Convenience:

Park

: If you have a busy schedule or prefer a workout that seamlessly integrates with your daily routine, parks offer convenience. A quick jog or bodyweight exercise in the park can be squeezed into your day without needing travel or a structured time commitment.

Gym

: For individuals with more flexibility in their schedules, gyms offer the convenience of consistent access regardless of weather conditions. You can plan your workouts without being dependent on outdoor factors.

Enjoyment and Mental Well-Being:

Park: Exercising in a natural environment can boost mental well-being. The sights and sounds of nature, fresh air, and vitamin D[1] from sunlight can elevate your mood, reduce stress, and increase your overall enjoyment of exercise.
Gym

: The gym's controlled environment provides focus and structure, which some individuals find motivating. Additionally, the social aspect of the gym can enhance the enjoyment of workouts for those who prefer a communal fitness atmosphere.

Social Interaction:

Park

: Outdoor workouts in parks often provide opportunities for social interaction. You might come across fellow fitness enthusiasts, participate in group activities, or enjoy the company of friends or family who join you.

Gym

: Gyms can also be social hubs. Many people enjoy the camaraderie of group fitness classes, working out with friends, or even making new acquaintances who share their fitness journey.

Variety and Creativity:

Park

: Parks offer a versatile space for creative workouts. You can incorporate natural terrain elements into your fitness routine, such as using benches for step-ups or tree branches for pull-ups. This variety can keep your workouts engaging.

Gym

: Gyms provide a vast array of exercise machines and equipment, allowing you to efficiently target specific groups and add a variety to your workouts. Trainers can also introduce new exercises to prevent boredom.

Cost Considerations:
Park

: Exercising in the park is typically free, making it a budget-friendly option.

Gym

: Gym memberships may involve monthly fees, which can vary depending on the variety of facilities and location. However, many gyms offer a range of membership options to fit different budgets.
The choice between the park and the gym depends on your preferences, fitness objectives, and lifestyle. Some individuals thrive in the park's serene and natural environment, appreciating its simplicity and cost-effectiveness. Others find their fitness groove in the structured and controlled setting of the gym, benefiting from specialized equipment and professional guidance. The key is to consider your fitness goals, daily routine, and what brings you joy and motivation. Ultimately, whether you choose the park, the gym, or a combination of both, staying active and committed to your journey is essential. "Life is like riding a bicycle. To keep your balance, you must keep moving." – Albert Einstein Statistics
According to a study published in the Journal of Physical Activity and Health, outdoor exercise in a natural environment is associated with greater feeling of revitalization, positive engagement, and decreased tension and confusion compared to indoor exercise.

The International Health, Racquet & Sportsclub Association (IHRSA) also reported that over 73 million Americans were gym members in 2019, highlighting the popularity of gym-based workouts.
If you still feel indecisive, remember each option offers distinct advantages, and the best choice depends on what works for you. Some individuals prefer the open air and natural surroundings of the park, while others appreciate the convenience and structured environment of the gym. Ultimately, what matters most is that you stay active and committed to your fitness journey. Whether in the park or the gym, the important thing is to keep moving, stay consistent, and work towards a healthier, happier you!