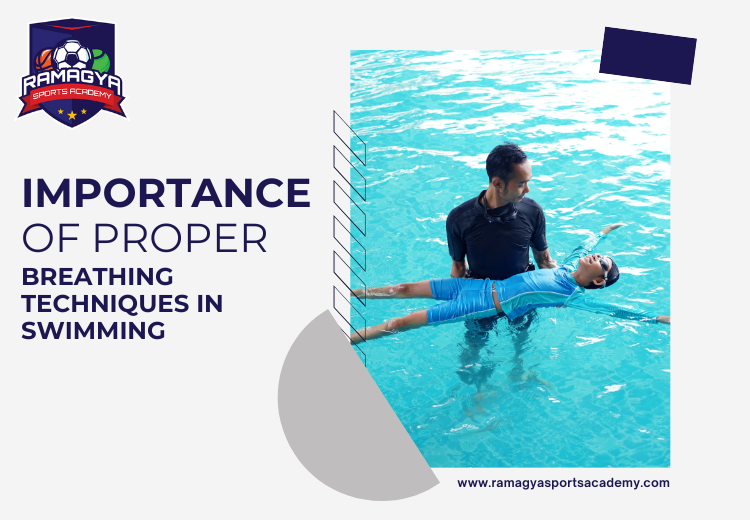 Welcome, fellow water enthusiasts, to the sparkling world of swimming! Among the many essential skills required for excelling in this invigorating sport, one aspect that often goes unnoticed but plays a vital role in proper breathing technique. Just as a fish thrives in water, a skilled swimmer must master the art of efficient breathing to glide through the water effortlessly. Today, we delve into the significance of breathing techniques in swimming and how they can propel you toward success in the pool.

Breathe Easy, Swim Better:
As you venture into the waters, deep breathing becomes instinctive. However, mastering the correct swimming breathing technique is more than inhaling and exhaling. It's a symphony of rhythm, coordination, and control. Effective breathing sustains your energy and enhances your swimming performance, ensuring you stay in the zone throughout your laps.
Enhance Oxygenation – Boost Performance:
Proper breathing techniques in swimming facilitate optimum oxygenation[1], directly impacting your performance. When you breathe efficiently, your muscles receive the oxygen they crave, reducing the chances of fatigue and cramping. Practising rhythmic breathing will unlock a reservoir of energy, allowing you to swim longer and faster.
Find Your Rhythm:
Discovering your breathing rhythm is the key to unlocking your aquatic potential. Every swimmer has a unique cadence that works best for them. Some prefer to take a breath every two strokes, while others find comfort in a three-stroke pattern. Experiment with different rhythms during your training sessions to identify the one that suits you best. Once you find your groove, you'll feel the harmonious dance between your body and the water.
Improve Stroke Efficiency:
Have you ever wondered why some swimmers glide through the water effortlessly while others struggle with every stroke? The answer often lies in their breathing technique. Proper breathing enhances oxygen intake and influences your body position and balance. When you breathe correctly, you maintain a streamlined posture, reducing drag and enabling smoother strokes.
Stay Relaxed – Conquer the Fear:
Water can be both thrilling and intimidating, especially for beginners. Fear and anxiety can disrupt your breathing rhythm, leading to exhaustion and panic. Focusing on controlled breathing helps calm your mind and body, allowing you to stay relaxed and composed. Embrace the water with confidence, knowing that you have the power to conquer any challenge.
Practice Makes Perfect:
Like any other skill, mastering breathing techniques in swimming requires dedication and practice. Integrate specific drills into your training regimen to fine-tune your breathing technique. Incorporate bilateral breathing exercises, where you breathe on both sides, to ensure balanced muscle development and adaptability during competitions. By practising, you can also work on your swimming breathing techniques.
As you plunge into the world of swimming, remember that the journey to excellence is paved with proper breathing techniques. Embrace the water as your ally, and let rhythmic breathing become your companion. Focusing on your breath will enhance your performance, conquer your fears, and experience the sheer joy of swimming like never before.
So, gear up, head to the pool, and dive deep into success with proper breathing techniques in swimming. Explore the wonders of this graceful sport, and let your lungs embrace the rhythm of the water, for the journey is as rewarding as the destination itself. Happy swimming!
Read our Article: Dive Into Efficiency: Mastering Your Swimming Stroke at Ramagya Sports Academy