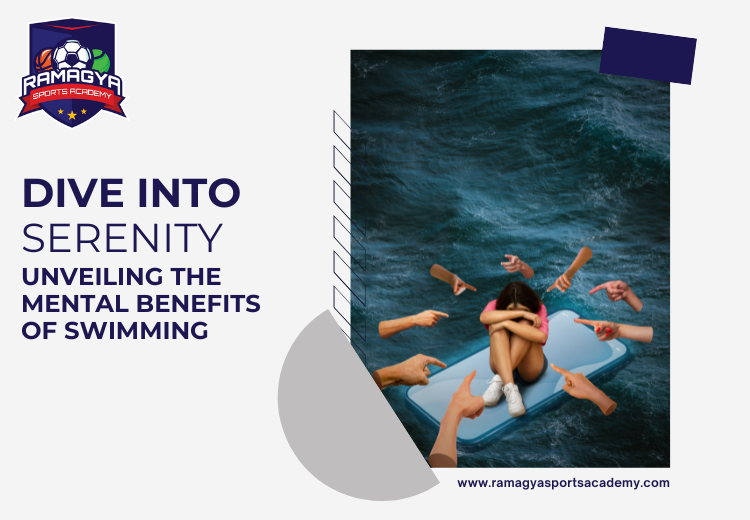 Amidst the hustle of modern life, finding moments of tranquillity and mental clarity becomes crucial. Swimming, often hailed as a physical exercise, holds many cognitive benefits within its gentle embrace. Plunge into swimming and discover how it offers more than just physical fitness – a pathway to stress relief and mental rejuvenation.
A Refreshing Dive into Inner Peace
In fitness, swimming is a unique exercise that strengthens the body and nurtures the mind. Here's how:
Stress Relief in the Aquatic Abyss:

The rhythm of strokes and the sound of water create an atmosphere that washes away stress. The serene environment of a swimming pool or open water provides a sanctuary for a troubled mind.

Mental Clarity and Focus:

The repetitive nature of swimming strokes fosters a meditative experience. The mind finds clarity as the body glides through the water, detaching from worries and distractions.

Endorphin Release:

Swimming triggers the release of endorphins, the body's natural mood enhancers. These "feel-good" hormones elevate mood and alleviate symptoms of anxiety and depression.

Mindful Breathing:

Swimming's synchronization of breath and movement promotes conscious breathing, reducing anxiety and improving overall mental well-being.

Boosting Self-Confidence:

Mastering swimming techniques and achieving personal goals in the water boosts self-confidence, transcending into various aspects of life.
The Ripple Effect of Swimming on Mental Health
According to a study published in the Journal of Sport and Health Science, regular swimming reduces symptoms of depression and anxiety. Another research by Speedo revealed that 74% of swimmers experience a sense of mental well-being after swimming, attributing it to the soothing nature of water and the rhythmic motion of swimming.
Swimming is not just a physical activity; it's a powerful tonic for mental well-being. Various studies have dived into the impact of swimming on mental health, revealing compelling statistics that highlight its positive effects:
Depression and Anxiety Alleviation: According to a study published in the International Journal of Aquatic Research and Education, regular swimming sessions significantly reduce symptoms of depression and anxiety. The rhythmic and repetitive nature of swimming acts as a form of mindfulness, calming the mind and promoting emotional balance.
Stress Reduction: In a research study conducted by Speedo and MindLab, participants experienced a reduction of 35% in their perceived stress levels after just 30 minutes of swimming. The gentle resistance of water and the controlled breathing required in swimming induce a relaxation response, reducing stress hormones in the body.
Cognitive Enhancement: Swimming doesn't just impact mood; it also has positive effects on cognitive function. The British Journal of Sports Medicine reported that swimming can improve cognitive abilities like memory and problem-solving skills. Combining physical activity, rhythmic movement, and focused breathing is believed to enhance brain health.
Enhanced Sleep Quality: The National Sleep Foundation suggests regular physical activity like swimming can improve sleep quality. Swimming helps regulate the body's internal clock, making it easier to fall asleep and stay asleep through the night.
Emotional Regulation: Swimming fosters emotional regulation, making it a valuable tool for individuals dealing with emotional challenges. The repetitive strokes combined with water's soothing qualities can help individuals process emotions and feel calm.
Boost in Self-Esteem: The International Journal of Environmental Research and Public Health published a study highlighting that individuals who participated in aquatic exercise, including swimming, experienced improved self-esteem and body image. The feeling of weightlessness in water and the positive physical changes resulting from regular swimming contribute to a more positive self-perception.
Mental Resilience: Australian researchers found that individuals who engaged in regular swimming exhibited greater mental resilience, adaptability, and the ability to handle stress. The water's buoyancy supports the body while challenging it, metaphorically aligning with building emotional strength.
These statistics underscore the profound benefits of swimming on mental health. Whether diving into the pool for a leisurely swim or engaging in rigorous training, the benefits extend beyond physical fitness[1], touching the realms of mental tranquillity and emotional well-being.
Ramagya Sports Academy: Nurturing Mental and Physical Wellness
At Ramagya Sports Academy, we understand the holistic benefits of swimming – not just for the body but for the mind. Our state-of-the-art swimming facilities offer a serene space to immerse yourself in the mental tranquillity that swimming provides. Our expert coaches guide you through techniques that enhance your physical prowess and uplift your mental state.
Diving into the Depths of Mental Wellness
As you glide through the water, each stroke becomes a testament to your commitment to well-being. Swimming offers a chance to disconnect from the chaos of daily life and reconnect with yourself. Ramagya Sports Academy, with its dedication to overall wellness, is your partner in this transformative journey. Our collaborations with mental health experts ensure that every swim you take becomes a step towards a clearer mind, a calmer spirit, and a healthier you.
So, dive into the pool, feel the embrace of water, and let the mental benefits of swimming ripple through your life.
Rediscover the joys of serenity, and embark on a journey where each stroke becomes a stroke of mental wellness.
Read our Article: Dive into a World of Wellness: The Health Benefits of Swimming Regularly