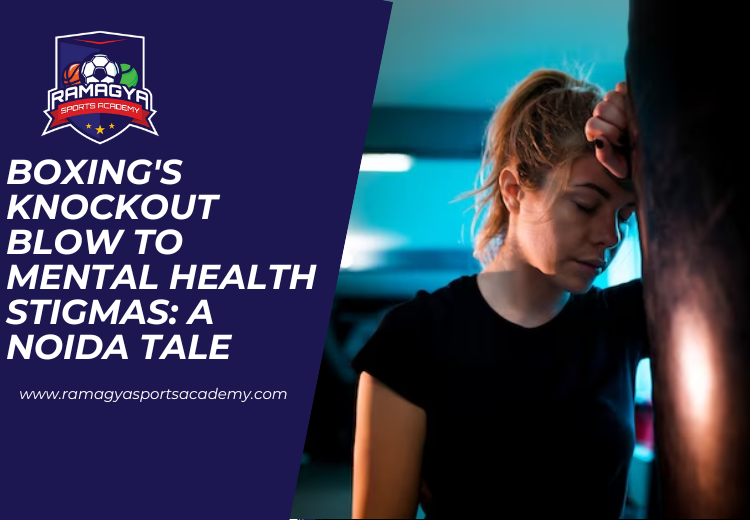 In the fast-paced and often stressful world of Delhi NCR, mental health issues have become a concerning reality for many. The daily grind, the traffic snarls, and the relentless pursuit of success can take a toll on one's mental well-being. Amidst this chaos, a sport has been silently but powerfully making its mark, not just as a form of physical exercise but as a means to tackle mental health stigmas. 
Welcome to the world of boxing, where every punch thrown is a step towards breaking down barriers and enhancing mental resilience!
The concrete jungles of Delhi NCR often echo with the sounds of ambition, competition, and the constant honking of vehicles. In this bustling metropolis, where the demands of professional life can be overwhelming and personal lives are constantly on the move, mental health stigmas have become a challenging adversary. Stress, anxiety, and depression often lurk in the shadows, affecting individuals from all walks of life.
Amidst this urban hustle, something extraordinary is happening. It's a story of resilience, of fighting back against the silent battles within. It's the story of how boxing in Delhi NCR is making decisive moves to knock out mental health[1] stigmas. Boxing is not just about a sport; it's about a community, a support system, and a lifeline for those who seek solace and strength in the ring.
Boxing in Delhi NCR: A Rising Champion
In the heart of Delhi NCR lies Noida, a city bustling with energy and aspirations. Among the towering buildings and crowded streets, boxing has found its niche here. Boxing in Delhi NCR is not just a sport; it's a movement, a breath of fresh air for those struggling with the weight of urban life. As individuals grapple with their professional and personal demands, boxing has emerged as a powerful outlet to release pent-up stress and anxiety.
"Boxing is about pushing through barriers. We teach our students that every punch they throw is against their limitations."  – Coach Ramagya Sports Academy
The Power of Punches: Benefits of Boxing
Boxing, often perceived as an aggressive sport, is a surprising remedy for mental health stigmas. Beyond the ring, it offers a plethora of benefits that can have some serious impact on one's mental well-being.
Stress Relief: Boxing is a high-intensity sport that demands complete focus and physical exertion. Punching a bag or sparring with an opponent releases endorphins, the body's natural stress-busters, leaving you calm and accomplished.
Boosted Confidence: As you progress in boxing, your confidence soars. The discipline and dedication required for training translate into a newfound self-assuredness that can significantly reduce the effect of mental health issues like anxiety and depression.
Enhanced Mental Resilience: Boxing teaches mental resilience like no other. In the ring, you face challenges, fear, and self-doubt. Overcoming these obstacles builds mental toughness that extends far beyond the gym.
Community and Support: Boxing is not just an individual sport; it's a community. The bonds formed with trainers and fellow boxers provide a crucial support system. In a society where mental health stigmas often isolate individuals, boxing offers a sense of belonging.
"In the ring, there are no masks. You face yourself and your fears. That's the beauty of boxing; it forces you to confront your demons." – Sarah, Aspiring Boxer
Fighting the Stigma: Boxing Academy in Noida
Boxing is not just a sport but a potent instrument for battling mental health stigmas. It offers a holistic approach to well-being by addressing physical and mental aspects. Joining a prestigious academy like Ramagya Sports Academy ensures you receive expert guidance and training in boxing. Our collaboration with Knockout Fight Club, with its extensive experience, adds a unique dimension to our program.
So, step into the ring, not just for physical fitness but for your mental health as well. Boxing empowers, uplifts, and instills a sense of resilience, qualities that are essential for navigating life's challenges. Join us at Ramagya Sports Academy and be a part of the movement that's making strides in knocking out mental health stigmas, one punch at a time. Together, we can champion the cause of mental wellness through the power of boxing.
"Mental health stigmas are like opponents in the ring. You have to fight to overcome them. Boxing teaches you that." 
– Mike Tyson
A Jab at Mental Health Stigmas
In a region known for its relentless pace, boxing emerges as a beacon of hope. It's a sport that sharpens your physical prowess and toughens your mental resilience. The mental health stigmas that have silently plagued many are being confronted, one punch at a time.
As you lace up your boxing gloves, remember that you're not just training your body but your mind. The battle against mental health stigmas is fought both within and outside the ring. Thanks to institutions like Ramagya Sports Academy's Boxing Academy and KNOCKOUT FIGHT CLUB, this battle is becoming increasingly accessible.
So, if you're in Delhi NCR, don't just drive past the skyscrapers and bustling streets. Step into a boxing gym, unleash the fighter within and knock out mental health stigmas together.
Join the movement today because, in boxing, every punch thrown is a punch for better mental health!
Read our Article: Knockout Kings: Unleash Your Inner Champion at Our Boxing Academy!