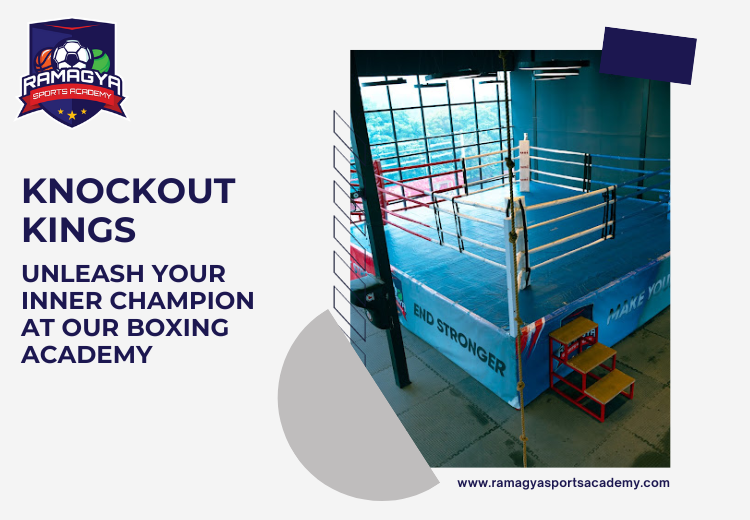 Are you ready to step into the ring of opportunity and take your passion for boxing to exhilarating heights? Look no further, for Ramagya Sports Academy is proud to announce an exclusive partnership with KnockOut, a synergy that promises to transform aspiring boxers into true pugilistic champions. Nestled in the heart of Noida, Ramagya Sports Academy stands as a beacon of excellence, offering the perfect platform for individuals to embark on a journey towards becoming boxing pros. Let's delve into how this collaboration is set to redefine the landscape of boxing training in India.
Unveiling the Power of Partnership: Ramagya Sports Academy's collaboration with KnockOut brings forth a remarkable fusion of expertise and innovation. With a shared vision of nurturing raw talent and sculpting it into unparalleled skill, this partnership opens the doors to a world-class boxing experience. Imagine being guided by seasoned trainers who've been in the ring themselves, breathing life into every jab, hook, and uppercut you throw. This collaboration isn't just about training; it's about fostering a community that lives and breathes the art of boxing.
The KnockOut Edge: As the sun rises on a new era of boxing training, KnockOut's legacy in the sport shines brightly. Widely regarded as one of the best boxing academies in India, KnockOut brings a wealth of experience and a roster of accomplished trainers. These mentors aren't just coaches; they are mentors who understand the nuances of the sport inside out. Their expertise, combined with Ramagya Sports Academy's state-of-the-art facilities, creates an environment where dreams of becoming a pro boxer can become a reality.
Unleash Your Potential: What sets Ramagya Sports Academy and KnockOut apart is their unwavering commitment to the individual. Whether you're a novice eager to lace up your gloves or an experienced boxer striving to hone your craft, this partnership caters to all levels of expertise. Every session is an opportunity to learn, grow, and surpass your limits. The academy's inclusive approach ensures that every member of the boxing fraternity feels empowered and supported on their journey.
Beyond the Ring: Boxing isn't just about physical prowess; it's a mental and emotional endeavor that shapes character. Ramagya Sports Academy, in collaboration with KnockOut, recognizes this holistic aspect of the sport. Through specialized workshops, personalized training plans, and a nurturing environment, the academy aims to produce not only exceptional boxers but also well-rounded individuals who exhibit discipline, resilience, and sportsmanship.
In the realm of boxing, greatness is forged through dedication, guidance, and unyielding passion. The partnership between Ramagya Sports Academy and KnockOut stands as a testament to this truth. Together, they create an oasis of boxing excellence in the heart of Noida, beckoning individuals to step into the ring and embark on a transformative journey. Whether you're a hopeful newcomer or a seasoned contender, this collaboration invites you to be a part of the legacy of India's finest boxing academy. So, lace up your gloves, step into the spotlight, and let Ramagya Sports Academy and KnockOut propel you towards becoming the champion you're destined to be.
Read our Article: Stepping into the Ring: Ramagya Sports Academy Elevates Pro Boxing in India