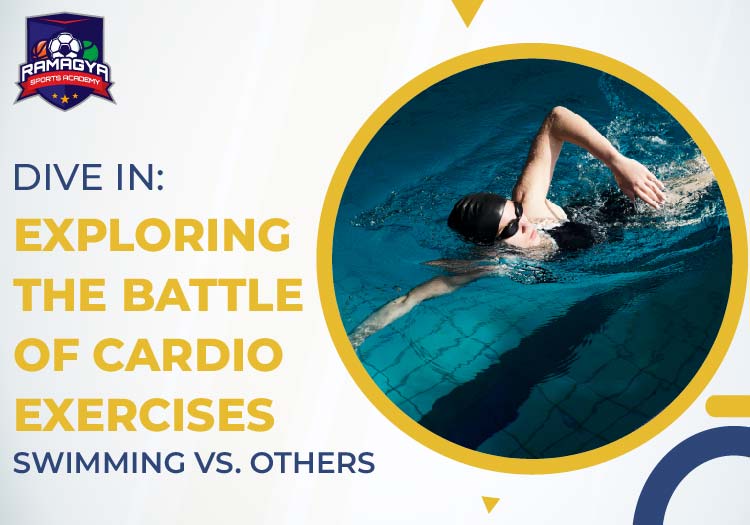 Welcome, fitness enthusiasts, to another exhilarating discussion by Ramagya Sports Academy! Today, we plunge into the depths of cardiovascular exercises, comparing the stimulating realm of swimming with other popular options. So grab your towel, put on your goggles, and dive into this interactive exploration!
Swimming: A Splashing Cardio Adventure
Let's start by making a splash with swimming, a refreshing and versatile cardio exercise that engages your entire body. Whether you're a beginner or a seasoned swimmer, the water offers a refreshing environment that sets swimming apart from other land-based workouts:
Low-Impact, Joint-Friendly Exercise: One of the significant advantages of swimming is its low-impact nature. Water buoyancy reduces stress on your joints, making it an excellent option for those with joint pain or injuries. The resistance provided by the water also helps build muscle strength without straining your joints, making swimming an excellent choice for long-term cardiovascular health.
Full-Body Workout: Unlike many other cardio exercises, swimming engages multiple muscle groups simultaneously. Each stroke works the upper, core, and lower body, promoting overall muscle tone and strength development. This comprehensive workout makes swimming an efficient way to burn calories while sculpting your physique.
Improved Cardiovascular Health: Swimming is a stellar cardiovascular exercise that strengthens your heart and lungs. It increases lung capacity, enhances oxygen circulation, and improves overall endurance. Regular swimming sessions can help lower blood pressure, reduce heart disease risk, and boost cardiovascular health.
Beat the Heat: Swimming offers a unique advantage during scorching summers. While other cardio exercises may cause discomfort due to excessive sweating and high temperatures, swimming keeps you cool and refreshed. Dive into the pool and let your body embrace the water's calming and soothing effects, making your workout enjoyable all year round.
Alternatives: Exploring Other Cardio Exercises
While swimming takes center stage in our discussion, we must recognize the vast array of other cardio exercises available. Let's explore some alternatives that can provide a diverse and exciting fitness regimen.
Running: Pounding Pavements for Cardiovascular Benefits: Running is a popular and accessible cardio exercise that requires minimal equipment. It helps burn calories, improves cardiovascular endurance, and strengthens lower-body muscles. Running can invigorate your fitness journey, whether you jog through a park or conquer marathon distances.
Cycling: Pedaling Toward Optimal Fitness: Hop on a bicycle and discover a fantastic way to boost cardiovascular health while exploring the great outdoors. Cycling targets your lower body muscles, enhances joint mobility, and builds stamina. You can enjoy the thrill of solo rides or join group cycling events to challenge yourself and engage with fellow fitness enthusiasts.
High-Intensity Interval Training (HIIT): Maximizing Efficiency: HIIT workouts have gained popularity due to their time efficiency and fat-burning potential. Combining bursts of intense exercise with short recovery periods, HIIT routines elevate your heart rate, increase metabolism, and improve cardiovascular[1] fitness. HIIT offers a dynamic and versatile way to spice up your cardio routine, from bodyweight exercises to circuit training.
Finding Your Perfect Fit
When it comes to choosing between swimming and other cardio exercises, it ultimately depends on your personal preferences, fitness goals, and circumstances. Experimentation is key! Consider your enjoyment, facility access, physical condition, and specific requirements or limitations.
Conclusion
As we emerge from the depths of our discussion, we hope you've gained valuable insights into cardio exercises. Swimming offers a unique and refreshing experience that engages your entire body while providing various physical and mental benefits. However, don't hesitate to explore other exciting options like running, cycling, or HIIT workouts to add variety to your fitness routine.
Remember, the most critical aspect is finding an activity you enjoy and can sustain in the long run. So, splash, sprint, or spin your way to a healthier and happier you. Dive into the world of cardio exercises and make waves in your fitness journey!
Stay tuned for more captivating discussions and fitness tips from Ramagya Sports Academy. Until then, keep exploring, moving, and achieving your fitness goals!
Read our Article: Dive into a World of Wellness: The Health Benefits of Swimming Regularly