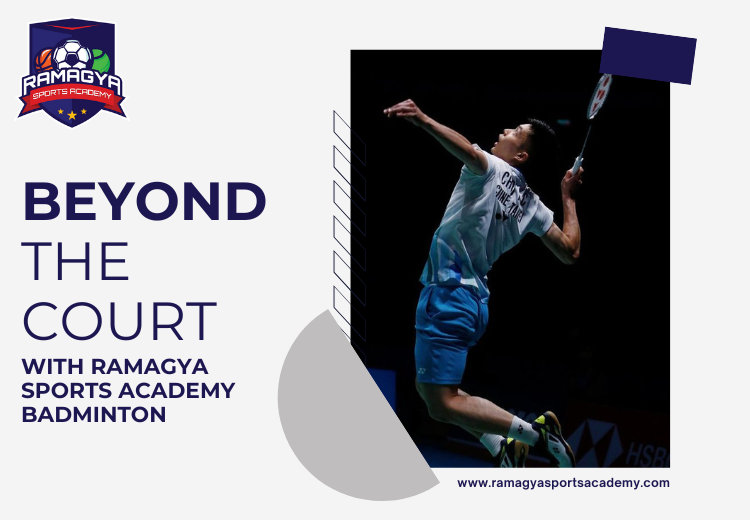 In a world that constantly emphasizes the importance of academic excellence, it's easy to overlook the profound life lessons that sports can offer. Beyond fitness and competition, sports provide a platform for individuals to develop valuable skills and qualities that extend far beyond the court. Ramagya Badminton Academy, nestled in the heart of Noida, is not merely a training ground for aspiring athletes; it's a crucible of growth, resilience, and empowerment.
The Dynamic Journey of Joining Ramagya Sports Academy
Joining a Sports Academy is a transformative step towards holistic development. It's not just about mastering the strokes and perfecting the serves; it's about embracing discipline[1], dedication, and determination. At Ramagya's Sports Academy in Noida, participants are exposed to a structured training regimen to nurture physical prowess and mental fortitude. The Academy serves as a microcosm of life itself, teaching participants to handle victories and defeats with stability and to face challenges with unwavering determination.
The Crossroads of Discipline and Passion
Life lessons often emerge at the crossroads of discipline and passion. As young players step onto the court, they realize that success demands commitment. The routines, drills, and hours of practice all contribute to building a solid work ethic. These qualities extend beyond the court and become invaluable tools in every facet of life. A Sports Academy like Ramagya's imparts technical skills and inculcates a sense of responsibility, teamwork, and perseverance.
Beyond the Game
Participating in a Sports Academy for Badminton goes beyond the immediate benefits of physical fitness. The camaraderie developed among fellow players fosters community and mutual support. The ability to manage time effectively, juggling rigorous practice sessions and academic responsibilities, is a skill that participants carry forward into their future endeavours. These experiences build resilience, teaching players to bounce back from setbacks and strive for continuous improvement.
Legendary sports figures often encapsulate the essence of sports' life lessons. As Michael Jordan famously said, "I've missed more than 9,000 shots in my career. I've lost almost 300 games. 26 times, I've been trusted to take the game-winning shot and missed too. I've failed over and over and over again in my life. And that is why I succeed."
These words echo the sentiments of every athlete who's grappled with challenges and emerged stronger. At Ramagya's Sports Academy, this philosophy finds resonance, reminding participants that failure is not the end; it's merely a stepping stone on the path to success.
Ramagya Sports Academy: Where Badminton Meets Excellence
At Ramagya Sports Academy, the pursuit of excellence is not just a tagline; it's a way of life. The collaboration with 'PADUKONE Sports Management', led by the legendary Prakash Padukone, brings a unique blend of expertise, experience, and inspiration to the Badminton program. This partnership ensures that every participant receives top-notch training and insights from some of the best minds in the field. Our Sports Academy isn't just about hitting shuttlecocks; it's about nurturing dreams and sculpting futures.
Embarking on a Journey of Self-Discovery
In the grand tapestry of life, sports play an invaluable role. Ramagya Sports Academy's Badminton program doesn't just train players; it shapes individuals ready to take on life's challenges with resilience, tenacity, and the indomitable spirit of a true athlete. So, when you step into Ramagya Sports Academy, you're not just learning a sport – you're embarking on a journey of self-discovery, growth, and boundless possibilities.
Discovering the Benefits of Badminton Academy
While the physical benefits of badminton, such as improved cardiovascular health, agility, and coordination, are well-known, its mental and emotional advantages are equally profound. The game's fast-paced nature sharpens concentration, enhances decision-making skills, and fosters quick thinking – attributes that extend beyond the court. Moreover, the social interactions within the Academy create a sense of belonging, teamwork, and camaraderie that contribute to overall well-being. Ramagya Academy recognizes the holistic advantages of the sport and strives to instill these qualities in every participant.
Ramagya Sports Academy's Badminton sport isn't just about physical training; it's a transformative journey that shapes individuals into confident, disciplined, and resilient individuals.
With a commitment to excellence and collaboration that brings expertise and inspiration, the Academy paves the way for a brighter future for its participants. So, if you're looking to embrace life's lessons beyond the court, Ramagya's Sports Academy is the place to be!
Read our Article: Smash Your Way to Success: Unleashing Your Potential at a Badminton Academy