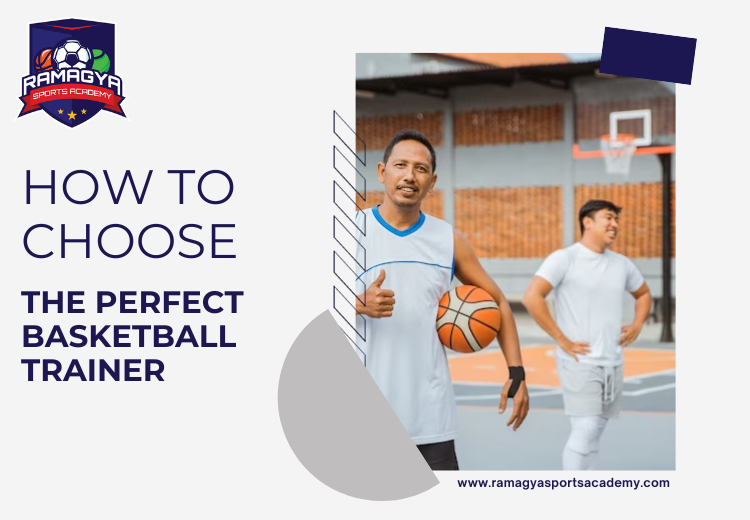 Basketball is more than just a sport; it's a way of life. For young aspiring players, finding the right basketball trainer can be the key to unlocking their full potential. With the world of sports constantly evolving, having a skilled and knowledgeable mentor can make all the difference in a player's journey. In this guide, we'll explore what to look for when choosing the right basketball trainer and why the Ramagya Sports Academy's Basketball Academy, in collaboration with the prestigious NBA Basketball Academy in Noida, stands out as the ideal choice.
The Role of a Basketball Trainer: Shaping Future Stars
Basketball is a game of finesse, agility, and teamwork. It requires not only physical prowess but also mental insight and strategic thinking. A basketball trainer plays a pivotal role in shaping a player's skills, character, and understanding of the game.
A basketball trainer should possess expertise, experience, and a passion for the sport. Their role extends beyond teaching techniques and strategies; they are mentors who instill discipline, sportsmanship, and a love for the game. As basketball legend Michael Jordan once said, "I've failed over and over and over again in my life. And that is why I've been successful." A great basketball trainer understands that failure is integral to growth and teaches resilience and perseverance.
The Qualities to Look for in a Basketball Trainer
Experience and Expertise

:

A qualified basketball trainer should have a strong sports background. Look for certifications, coaching experience, and a deep understanding of basketball techniques and strategies.
Communication Skills:
Effective communication is essential in coaching. A good trainer can convey complex concepts in a way that is easily understandable to players of all ages.
Patience:
Learning basketball, especially for beginners, can be frustrating. A patient trainer can help students overcome challenges and build their confidence.
Adaptability:
Adapting training methods to suit different skill levels and learning styles is crucial. A great trainer tailors their approach to meet each player's unique needs.
The Benefits of Basketball: More Than Just a Game
Basketball offers a multitude of benefits beyond physical fitness. It helps develop essential life skills that extend far beyond the court. Here are some of the key advantages of playing basketball:
Physical Fitness

:

Basketball is an excellent cardiovascular workout that enhances endurance, agility, and strength.
Teamwork

:

The sport promotes collaboration, communication, and a sense of unity among players.
Discipline

:

Regular practice and training instill discipline, time management, and a strong work ethic.
Mental Toughness

:

Handling the pressure of a fast-paced game teaches mental resilience and focus.
Problem-Solving

:

Players learn to make quick decisions and strategize in a dynamic environment.
Confidence

:

Mastering new skills and achieving success on the court boosts self-esteem.
Social Skills

:

Basketball fosters social interaction and the development of lifelong friendships.
"I've failed over and over and over again in my life. And that is why I've been successful."-Michael Jordan
Ramagya's NBA Basketball Academy: Where Champions Are Made
One of the key factors that sets Ramagya Sports Academy's Basketball Academy apart is the prestigious collaboration with the NBA Basketball Academy in Noida. The NBA, renowned worldwide for its basketball excellence, brings its wealth of knowledge and experience to the heart of Noida.
Under this collaboration, students can access top-tier coaching and training methodologies on par with international standards. The NBA's focus on skill development, fitness, and mental conditioning aligns perfectly with Ramagya's commitment to holistic player development.
Players at Ramagya's NBA Basketball Academy benefit from cutting-edge facilities, expert trainers, and exposure to the highest levels of competition. The academy not only grooms future basketball stars but also nurtures young individuals who embody values like teamwork[1], sportsmanship, and perseverance.
Making the Right Choice
Choosing the right basketball trainer is critical in a player's journey. It's about more than just learning to dribble and shoot; it's about building character, resilience, and a passion for the game. A great trainer is a mentor, a guide, and a source of inspiration.
With Ramagya Sports Academy's Basketball Academy and its collaboration with the NBA Basketball Academy, aspiring players can learn from the best. It's not just about playing basketball; it's about becoming a better athlete and person.
Ultimately, the choice is clear:
Select a trainer who can help you reach for the stars.

Guide you through the ups and downs.

Inspire you to excel on and off the basketball court.
With the right trainer, you'll be on the fast track to slam-dunk success!
"A winner is someone who recognizes his God-given talents, works his tail off to develop them into skills, and uses these skills to accomplish his goals." –Larry Bird