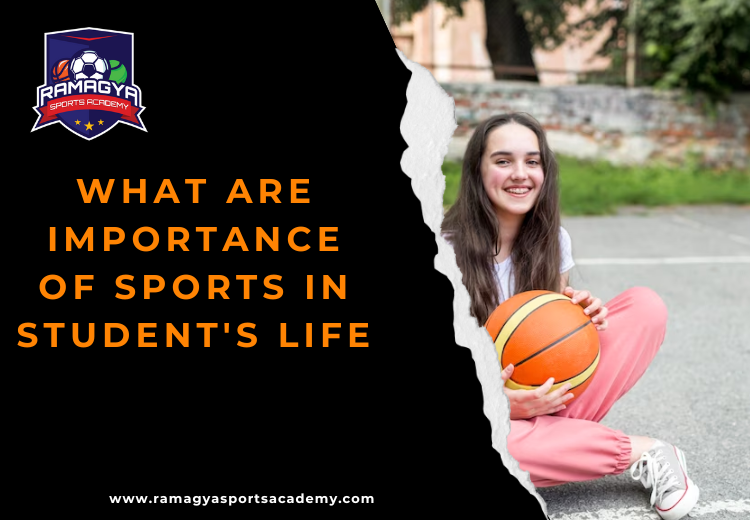 In today's fast-paced, technology-driven world, it's easy for students to become engrossed in their studies and overlook the importance of sports and physical activity. However, the benefits of incorporating sports into a student's life are numerous and far-reaching. From improving physical health to fostering essential life skills, sports play a pivotal role in a student's overall development.

Importance of Sports in Student's Life
Sports promote physical fitness and contribute significantly to a student's mental and emotional well-being. Physical activity has been proven to reduce stress, anxiety, and depression while enhancing mood and self-esteem. It provides a healthy outlet for releasing pent-up energy and frustrations, improving focus and academic concentration.
Moreover, sports instill a sense of discipline and time management. Students engaged in sports learn to juggle their academic commitments with their training and competition schedules. This ability to manage time efficiently often leads to enhanced organizational skills, a critical asset for future success.
Statistics Speak Volumes
Stats further emphasize the importance of sports in a student's life. According to a survey by the National Federation of State High School Associations (NFHS)[1], students who participate in sports tend to perform better academically. They have higher grade point averages, lower dropout rates, and superior attendance records than their non-athlete peers.
Another compelling statistic is related to time management. Students engaged in sports learn to balance their academic commitments with their training and competition schedules. This ability to manage time efficiently often leads to enhanced organizational skills, a critical asset for future success.
Benefits of Sports in
Student's Life
: A Holistic Approach
Sports provide a holistic approach to education. They teach students the importance of discipline, perseverance, and hard work. Whether perfecting a jump shot, mastering a new stroke, or excelling in a team sport, the process instills the values of dedication and determination.
Moreover, sports instill a sense of belonging. They create a community of like-minded individuals who share common goals and aspirations. This sense of belonging fosters camaraderie, friendships, and a support system far beyond the playing field.
The Physical Advantage
The physical benefits of sports are undeniable. Engaging in sports helps students maintain a healthy weight strong bones and muscles, and also helps to improve their cardiovascular health. Moreover, it reduces the risk of obesity, heart disease, and other chronic conditions.
Furthermore, participating in sports enhances physical coordination and motor skills. Students develop agility, balance, and hand-eye coordination, which are valuable in sports and daily life. These skills contribute to better overall health and well-being.
The Mental Advantage
Beyond the physical benefits, sports have a profound impact on mental health. Engaging in sports reduces stress and anxiety, promotes better sleep, and increases overall happiness. It serves as an excellent outlet for managing academic pressures and personal challenges.
Sports also teach students valuable life lessons. They learn to cope with wins and losses, handle competition and pressure, and develop resilience in adversity. These experiences build mental toughness, which is crucial in navigating the complexities of student life.
The Emotional Advantage
Emotionally, sports provide a sense of accomplishment and pride. Achieving personal bests, winning games, and overcoming challenges boost self-esteem and self-confidence. These positive emotions spill over into other areas of a student's life, fostering a more optimistic and resilient outlook.
Additionally, sports encourage teamwork and sportsmanship. Students learn to work collaboratively, communicate effectively, and respect their peers and opponents. These social skills are invaluable in building meaningful relationships and succeeding in a diverse world.
Ramagya Sports Academy: Shaping Future Champions
One critical factor that sets Ramagya Sports Academy apart is our collaborations with prestigious and accomplished names in the sports world. These partnerships bring world-class training and guidance to our students, helping them realize their full potential.
Our state-of-the-art facilities and expert coaching staff reflect our commitment to nurturing well-rounded individuals. Whether a student aspires to excel in cricket, badminton, boxing, or any other sport, we provide the resources and mentorship required to succeed.
At Ramagya Sports Academy, we understand that sports are not just about winning trophies but building character, fostering leadership, and preparing students for life's challenges. We firmly believe that every student has the potential for greatness, and we aim to unlock that potential through sports.
Empowering Tomorrow's Leaders Through Sports
The importance of sports in a student's life cannot be overstated. They offer myriad physical, mental, and emotional benefits while instilling essential life skills.
As students embark on their educational journeys, let us not forget that sports are integral to the path to success. Through participation in sports, students can develop into well-rounded individuals who are academically proficient, physically fit, mentally resilient, and equipped to face life's challenges head-on.
Sports are a winning edge in a student's life, offering a holistic education and personal development approach. They shape future champions, both on and off the field, and prepare students for success in the real world. So, let's embrace the significance of sports and ensure that they remain an essential part of every student's journey.