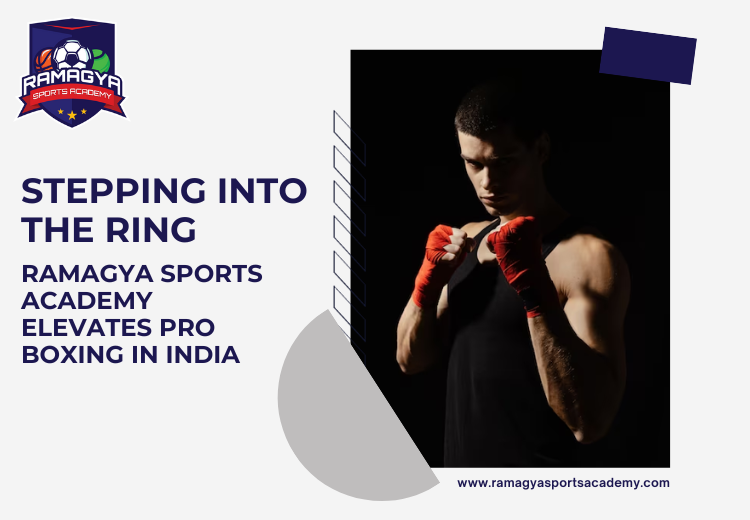 In sports, only some disciplines demand the dedication, skill, and tenacity that professional boxing does. A sport that has inspired awe and admiration for generations, pro boxing not only hones physical prowess but also shapes mental strength. As the adrenaline-pumping clash of fists gains prominence in India, Ramagya Sports Academy's new training facility in Noida emerges as a beacon of hope for aspiring pro boxers, amplifying the nation's enthusiasm for this intense sport.
The Uprising of Pro Boxing in India
India's sports realm has witnessed a remarkable transformation in recent years, with disciplines like cricket, badminton, and wrestling taking center stage. However, there's a rumble in the air – the resurgence of professional boxing. With talents like Mary Kom, Vijender Singh, and Amit Panghal carving their names into the international arena, boxing is experiencing a renaissance in the country. Ramagya Sports Academy's new training facility marks a significant step towards nurturing the next generation of Indian boxing champions.
Unveiling the New Pro Boxing Training Facility
Ramagya Sports Academy's commitment to fostering sporting excellence leaps forward with its new state-of-the-art pro boxing training facility in Noida. This facility isn't just a gym; it's a crucible of dreams where aspiring boxers can transform their passion into prowess. Equipped with cutting-edge equipment, expert trainers, and a dynamic environment, this facility is poised to become the breeding ground for champions.
The Benefits of Stepping into the Boxing Ring
Boxing isn't just a sport; it's a holistic training regime that instills discipline, enhances agility, builds strength, and sharpens focus. The cardiovascular benefits of boxing are well-known – improved endurance, heart health, and weight management. However, the benefits extend beyond the physical. Boxing cultivates mental resilience, teaching athletes to navigate challenges with determination and strategic thinking. The sport demands perseverance, and every punch thrown in the ring is a testament to an individual's commitment to self-improvement.
"The Fight is Won or Lost Far Away from Witnesses – Behind the Lines, in the Gym, and Out There on the Road, Long Before I Dance Under Those Lights." – Muhammad Ali
The words of Muhammad Ali resonate deeply with every boxer who steps into the ring. The fight isn't just about those few intense minutes inside the squared circle; it's about the countless hours of training, sacrifice, and relentless dedication. Ramagya Sports Academy's new pro boxing facility embodies this spirit, offering a space where athletes can hone their skills, push their limits, and chase their dreams.
Knocking Out Boundaries: Ramagya's Boxing Collaboration
Ramagya's dedication to pro boxing continues beyond the training facility. The collaboration with 'KNOCKOUT FIGHT CLUB', an entity with over 15 years of experience in training boxers, brings a wealth of expertise to the program. This collaboration is led by seasoned trainers who have shaped national and international champions, ensuring that every participant receives top-notch training and mentorship. Ramagya's alliance with KNOCKOUT FIGHT CLUB reiterates its commitment to nurturing talents that will make India proud globally.
The Bell Rings for a New Era
As the bell rings for a new era in Indian boxing, Ramagya Sports Academy's pro boxing training facility is a testament to the nation's sporting aspirations. It isn't just a training centre; it's a platform that empowers dreams and fuels ambitions. So, for every young aspirant who dreams of stepping into the ring, Ramagya's facility is where those dreams can become a reality. The path to glory is now more evident than ever. With the fusion of determination and the proper training, India's boxing champions[1] of tomorrow are ready to emerge from the shadows.
Stepping into the World of Champions
In the grand tapestry of sports, pro boxing holds a unique place. Ramagya Sports Academy's pro boxing training facility doesn't just prepare athletes for matches; it shapes individuals who can face challenges head-on, both in and out of the ring. With a commitment to excellence and a partnership that brings years of experience, the Academy ensures that every punch thrown carries the weight of aspiration and determination. The training facility isn't just a gym; it's a doorway to the world of champions – where resilience meets skill, and ambition finds its path to glory.
Read our Article: Exploring the Premier Fitness Destination: Ramagya Sports Academy's Gym in Noida