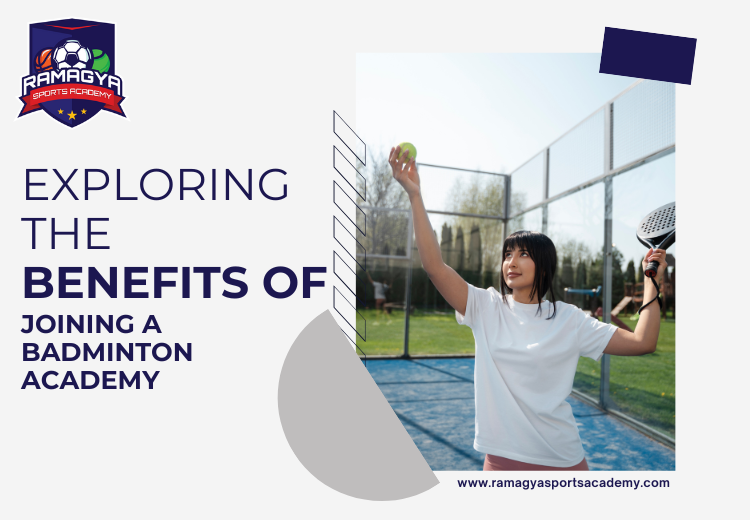 Badminton, a sport combining agility, precision, and strategy, has captivated sports enthusiasts for generations. Whether you're a casual player looking for a fun way to stay fit or an aspiring athlete dreaming of Olympic glory, the path to badminton excellence often starts with joining a reputable badminton academy in Noida. In this blog, we'll explore the world of shuttlecocks and smashes and the numerous benefits of enrolling in a badminton academy.
Understanding the Advantages
The term "badminton academy" may conjure images of intense training sessions and competitive matches, but these academies cater to individuals of all skill levels and ages. Whether you're a beginner, an intermediate player, or a seasoned pro, there are compelling reasons to consider joining one.
Professional Coaching
One of the most significant advantages of joining a badminton academy is access to professional coaching. Coaches at reputable academies are often former or current national and international players with a wealth of experience. They understand the game's nuances, from mastering different shot techniques to devising effective strategies. These coaches can fine-tune your skills, correct flaws in your process, and help you reach your full potential.
Structured Training Programs
Badminton academies provide structured training programs that cover all aspects of the game. From fundamental techniques like gripping the racket correctly to advanced tactics like anticipating your opponent's next move, these programs are designed to enhance your skills systematically. This structured approach ensures that you receive a well-rounded badminton education.
State-of-the-Art Facilities
Reputable badminton academies offer state-of-the-art facilities[1], providing the perfect environment for practice and competition. These facilities often feature advanced court surfaces, modern lighting, and the latest technology to enhance your training experience. Whether honing your skills or preparing for a tournament, these facilities are designed to meet your needs.
Physical Fitness and Conditioning
Badminton is a physically demanding sport that requires agility, speed, and endurance. Badminton academies understand the importance of physical fitness and conditioning and often incorporate these elements into their training programs. This holistic approach ensures that you improve your badminton skills and enhance your overall fitness level.
Competition and Exposure
Joining a badminton academy opens the door to competitive opportunities. You'll have the chance to participate in local, regional, and national tournaments, allowing you to test your skills against various opponents. Additionally, exposure to competitive play can help you develop mental toughness and resilience, which are invaluable in badminton and life.
Lifelong Friendships
Sports academies foster a sense of community among players. You'll be able to meet fellow badminton enthusiasts who share your passion for the sport. Lifelong friendships often form on the courts, creating a support network beyond the academy.
Learning Life Skills
Badminton academies emphasize discipline, dedication, and teamwork. These qualities are not only essential in the court but also in everyday life. As you train and compete, you'll develop valuable life skills to help you excel.
"Sports teaches you character, it teaches you to play by the rules, it teaches you to know what it feels like to win and lose – it teaches you about life." – Billie Jean King.
Game-Changing Statistics: The Impact of Badminton on Health and Well-Being
According to a study published in The British Journal of Sports Medicine, playing badminton even for 30 minutes everyday can significantly reduce the risk of heart disease. Badminton is like one of the fastest racket sports, with shuttlecocks often exceeding 200 miles per hour.
Statistics provide concrete evidence of the transformative power of badminton, not only in the realm of sports but also in enhancing health and well-being. Here, we present some game-changing statistics that shed light on how badminton positively influences various aspects of our physical and mental health:
Cardiovascular Health:

An hour of competitive badminton can burn 350 to 450 calories, reducing the risk of heart disease.

Weight Management:

Badminton is an effective tool for weight loss and improved metabolism.

Flexibility and Agility:

The sport enhances flexibility and agility, reducing injury risks.

Mental Sharpness:

Badminton improves memory, concentration, and problem-solving abilities.

Stress Reduction:

It lowers stress levels by releasing endorphins during play.

Social Connection:

Badminton encourages social interaction, fostering bonds and happiness.

Longevity:

Regular play is linked to increased life expectancy, thanks to holistic health benefits.

Immunity:

It boosts the immune system, leading to better overall health.

Improved Reflexes: Badminton hones reflexes and hand-eye coordination, which are valuable in daily tasks.

Bone Health:

Weight-bearing actions strengthen bones, especially crucial with age.
These statistics underline the comprehensive advantages of badminton on both physical and mental health. It's more than just a sport; it's a lifestyle choice that empowers individuals to lead healthier, more fulfilling lives.
When you consider joining a Badminton Academy, remember that you're not just stepping onto the court but embarking on a journey towards a healthier, happier you!
Ramagya's Badminton Excellence
Now, let's explore how Ramagya Sports Academy takes badminton excellence to a new level.
At Ramagya Sports Academy, the pursuit of excellence is not just a tagline; it's a way of life. The collaboration with "PADUKONE Sports Management," led by the legendary Prakash Padukone, brings a unique blend of expertise, experience, and inspiration to the Badminton program. This partnership ensures that every participant receives top-notch training and insights from some of the best minds in the field. Our Sports Academy isn't just about hitting shuttlecocks; it's about nurturing dreams and sculpting futures.
Ramagya Sports Academy, nestled in the heart of Noida, is a renowned institution known for its commitment to nurturing sporting talent. It offers world-class coaching and training in badminton, making it the ideal destination for aspiring players.
"The more difficult the victory, the greater the happiness in winning." – Pelé
Joining a badminton academy can be a transformative experience.
Whether you aspire to compete at the highest level or want to enjoy the sport, the benefits are numerous. A few advantages are access to professional coaching, structured training programs, state-of-the-art facilities, physical fitness and conditioning, competitive opportunities, lifelong friendships, and valuable life skills.
Read our Article: Smash Your Way to Success: Unleashing Your Potential at a Badminton Academy