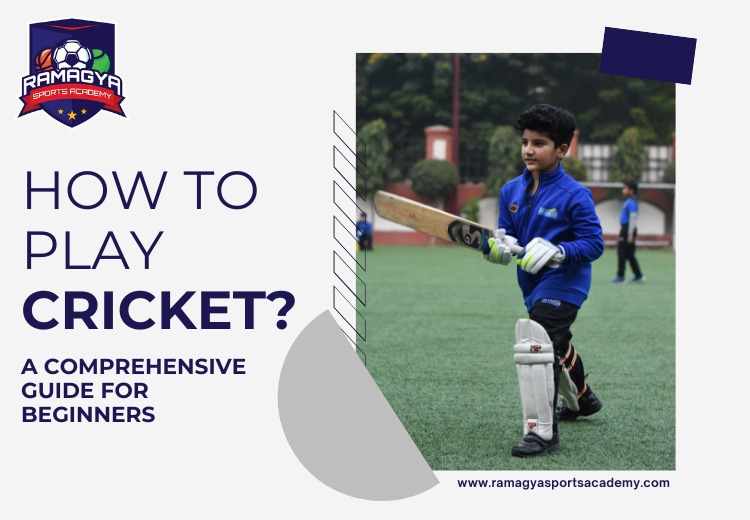 Cricket, often dubbed as a gentleman's game, is a sport that combines strategy, skill, and teamwork. Whether you've watched it on television or seen kids playing in the park, there's no denying the excitement and charm cricket brings. If you're new to the cricket world and wondering "How to learn play cricket?" or "How to play cricket?" – fret not! Welcome to an exhilarating journey that Ramagya Sports Academy is one of the best academy in Delhi NCR, in partnership with the MS Dhoni Cricket Academy, is thrilled to guide you through. In this article, we'll unravel the basics of cricket, from essential equipment to fundamental techniques, to set you on the path to becoming a proficient cricketer.
Gearing Up for Success
Before stepping onto the pitch, it's essential to gear up with the right equipment. Here's a quick rundown of what you'll need:
Understanding the Basics
Batting:

The aim here is to score runs for your team. Stand in a balanced position facing the bowler. Please keep your eyes on the ball, and as it's delivered, use the bat to hit it away from fielders.

Bowling

: Bowling involves precisely delivering the ball to dismiss the batters. Learn different types of bowling techniques like fast, spin, and swing.

Fielding

: It includes stopping runs, catching the ball, and attempting run-outs. Practice your catching skills and agility to be a valuable fielder.
Mastering Techniques
Batting Techniques:
Stance: Stand sideways to the bowler with your feet shoulder-width apart. Your weight should be evenly distributed.
Grip: Hold the bat with both hands close together. The top hand provides control, and the bottom hand generates power.
Shot Selection: Different shots are used in various situations. Practice shots like drives, cuts, pulls, and hooks.
Bowling Techniques:
Grip: The grip varies depending on the type of delivery – seam up for fast bowling and wrist position for spin bowling.
Run-Up: A smooth run-up helps generate pace and accuracy. Maintain a consistent stride length and rhythm.
Release Point: The point at which you release the ball determines its trajectory—practice variations in line, length, and swing.
Teamwork and Strategy
Cricket is not just about individual brilliance; it's a team sport that requires coordination and strategy. Understanding field placements, communicating with teammates, and adapting to different game situations are crucial.
Learning to play cricket is an exciting journey, combining physical fitness, mental acumen, and camaraderie. With the combined expertise of Ramagya Sports Academy and the MS Dhoni Cricket Academy, you're in excellent hands. Remember, practice makes perfect. Don't be afraid to make mistakes – they're part of the learning process. Embrace the challenges, focus on improving, and relish the joy of hitting the winning shot or taking a crucial wicket. So, grab your bat, put on your pads, and confidently step onto the field. The world of cricket awaits, and you're ready to shine!
Today, embark on your cricket journey with Ramagya Sports Academy and the MS Dhoni Cricket Academy. Discover how to learn cricket correctly and unveil the cricketer within you. Get in touch with us to enrol in our beginner-friendly cricket programs and let the magic of the sport transform you into a skilled cricketer!
Read our Article: Dive In: Exploring the Battle of Cardio Exercises – Swimming vs. Others