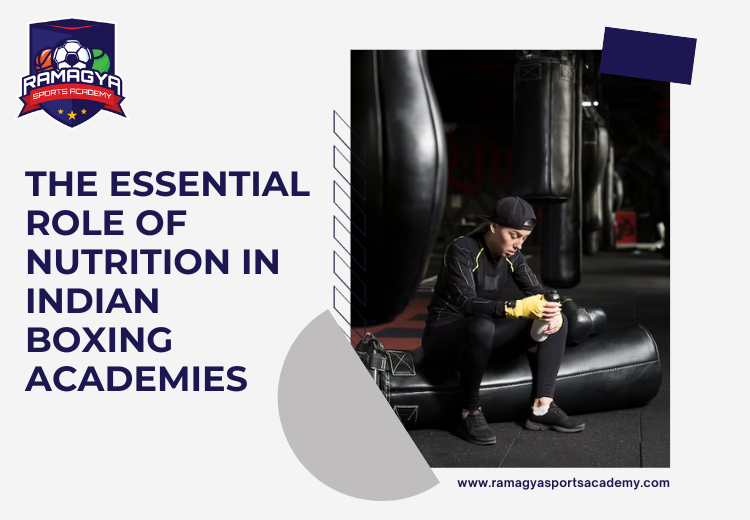 Welcome to the Indian boxing academies, where champions are molded, dreams are nurtured, and champions are born. Among the elite, the Ramagya Sports Academy proudly stands as one of the best boxing academies in India. In the high-energy atmosphere of a boxing academy, where dedication, training, and discipline are the keys to success, one often underestimated aspect plays a pivotal role – nutrition.

Fueling Champions at Ramagya Sports Academy
The foundation of a successful boxer is not only laid through rigorous training and dedication but also through a well-structured nutrition plan. At Ramagya Sports Academy, we understand that the journey from being a novice to becoming a champion is not just about punches and jabs but also about what fuels your body.
The Significance of Nutrition
Nutrition is not just about eating; it is about making the right choices that provide the necessary energy and nutrients to enhance your performance. In the high-intensity sport of boxing, the role of nutrition[1] cannot be overstated. Let's dive into the crucial aspects that make nutrition the unsung hero in Indian boxing academies.
Energy and Stamina: In the boxing ring, endurance is vital. Boxers at the Ramagya Sports Academy understand that to be at the top of their game; they need a diet that provides a steady energy source. A well-balanced diet ensures they have the stamina to withstand intense training sessions and go the distance.
Weight Management: Weight classes are an integral part of boxing. Proper nutrition is essential to meet the weight requirements for a specific category. The nutritionists at Ramagya Sports Academy work closely with the boxers to help them maintain their desired weight while ensuring they have the strength and energy they need.
Muscle Development: Strength and power are prerequisites for a successful boxer. A boxer's diet's proper balance of protein, carbohydrates, and fats helps in muscle development and repair. This is an area where Ramagya Sports Academy excels, ensuring that our boxers have the proper nutrients for muscle growth and recovery.
Immune System Support:

The training regimen in boxing academies can be grueling, and a weakened immune system can derail a boxer's progress. Nutrition is crucial in supporting the immune system and vital for staying fit and healthy throughout training.

Mental Focus:

The mental aspect of boxing is just as important as the physical. Proper nutrition helps maintain mental clarity and focus, enabling our boxers to strategize effectively and stay sharp during fights.
What Makes Ramagya Sports Academy the Best Boxing Academy in India?
Personalized Nutrition Plans: At Ramagya Sports Academy, we don't believe in a one-size-fits-all approach. Each boxer receives a personalized nutrition plan tailored to their needs and goals. Our expert nutritionists work closely with the athletes to ensure they get the proper nutrients in the right proportions.
Hydration Matters:

Proper hydration is often an overlooked aspect of nutrition. Dehydration can lead to a drop in performance and concentration. Our team ensures our boxers are always well-hydrated, especially during strenuous training sessions.

Balanced Diet:

We promote a balanced diet that includes a variety of foods from all food groups. Our athletes get a mix of carbohydrates, proteins, healthy fats, vitamins, and minerals to meet their unique nutritional needs.

Continuous Monitoring: Nutrition is not a one-time thing. It's an ongoing process. At Ramagya Sports Academy, we constantly monitor our boxers' progress and adjust their nutrition plans accordingly. This ensures that they are always in peak condition.
In Indian boxing academies, the Ramagya Sports Academy stands tall as one of the best. Our commitment to the overall development of our boxers extends beyond the training regimen. Nutrition plays a pivotal role in their journey from aspiring athletes to champions. It provides the fuel, the strength, the mental focus, and the endurance needed to make it to the top.
If you aspire to be a part of the best boxing academy in India, remember that your journey to success starts with what you put on your plate. At Ramagya Sports Academy, we understand the power of proper nutrition and are here to help you harness it on your way to becoming a champion. Join us, and let's fuel your dreams together!
Read our Article: Knockout Kings: Unleash Your Inner Champion at Our Boxing Academy!