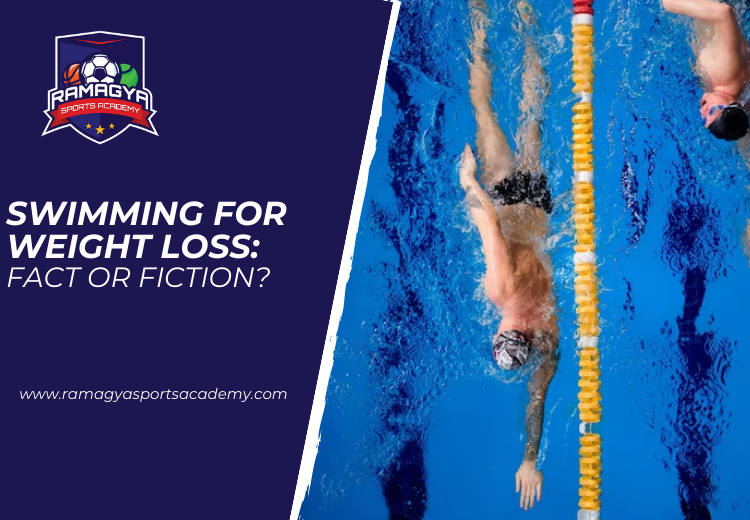 Welcome to the Ramagya Sports Academy blog, where we dive into the topic of swimming for weight loss. Are you looking for an effective way to shed those extra pounds and achieve a toned body? If so, swimming might be the answer you've been searching for. In this article, we'll examine the advantages of swimming for weight loss and explain why it is often hailed as one of the best exercises for achieving your fitness goals.
The Power of the Pool: Swimming is a low-impact exercise that engages multiple muscle groups and provides a full-body workout. You employ your arms, legs, and core when swimming, and back muscles to propel yourself through the water, creating resistance that helps build strength and burn calories. Unlike high-impact exercises like running or weightlifting, swimming puts a minimal stress on your joints, which makes it an excellent option for reducing weight for people of all ages and fitness levels.
Benefits of Swimming for Weight Loss:
Calorie Burning Machine: Swimming is a calorie-burning powerhouse. Depending on your swim's intensity and body weight, you can burn upto 500 to 700 calories per hour. It makes swimming one of the most efficient exercises for weight loss.
Cardiovascular Health: Swimming increases your heart rate, improving your cardiovascular[1] endurance. Regular swimming workouts can improve your general fitness and strengthen your heart and lungs, lowering your risk of heart disease.
Muscle Toning: Swimming engages various muscle groups, including arms, shoulders, core, back, and legs. As you swim, your muscles work against the resistance of the water, leading to improved muscle tone and definition. It can help you achieve a sculpted and toned body.
Stress Relief: Swimming is not just a physical exercise but has mental and emotional benefits. Immersing yourself in water can be incredibly relaxing and therapeutic. The rhythmic motion of swimming and the sensation of weightlessness can help reduce stress and promote well-being.
Increased Flexibility: Swimming incorporates a variety of exercises that enhance joint mobility and flexibility. The water supports your body weight, allowing you to stretch and move your muscles in ways that may be challenging on land. It can lead to improved flexibility and reduced muscle stiffness.
Making the Most of Your Swim: To maximize the weight loss benefits of swimming, it is essential to maintain a consistent routine. Aim for at least two to three swim sessions per week, gradually increasing the duration of your workouts as your fitness level improves. You can incorporate different strokes, drills, and interval training into your swimming routine to keep things interesting.
Additionally, remember to combine swimming with a healthy and balanced diet. While swimming is an excellent calorie-burning exercise, weight loss depends on consuming lesser calories than you burn.
Swimming for weight loss is not fiction but a proven fact. Its numerous benefits, including calorie burning, cardiovascular health, muscle toning, stress relief, and improved flexibility, make it an ideal exercise for achieving weight loss goals and attaining a toned body. So grab your swimsuit, head to the pool, and dive into a new fitness journey with swimming. It's time to make a splash and embrace the wonders of this enjoyable and adequate exercise.
Remember, swimming is not just about weight loss—it's a lifelong skill that can bring joy, relaxation, and improved overall well-being. So, why wait? Dive into the pool and start reaping the incredible benefits of swimming today!
If you have any questions or want to explore swimming as a fitness option, please get in touch with us at Ramagya Sports Academy. We are here to guide and support you on your journey to a healthier and fitter.
Read our Article: Dive In: Exploring the Battle of Cardio Exercises – Swimming vs. Others