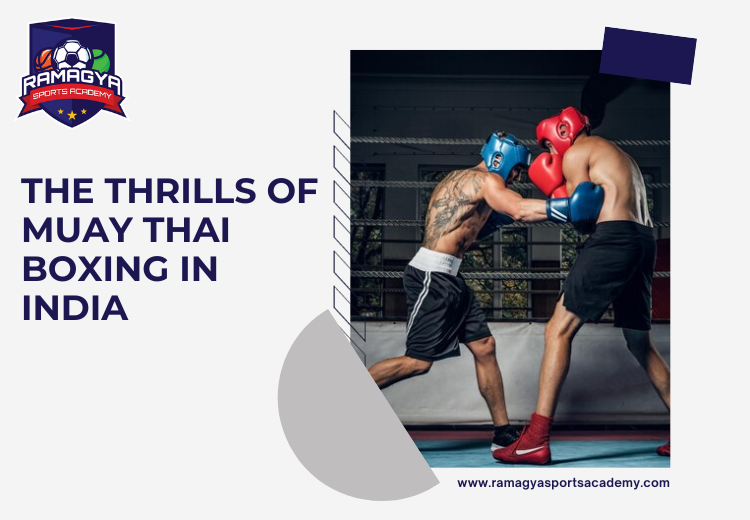 In the bustling world of fitness routines and health regimens, there's a beacon of empowerment captivating the attention of fitness enthusiasts and sports aficionados – Muay Thai. If you yearn for a workout beyond the mundane gym sessions, it's time to dive into the world of Muay Thai. At Ramagya Sports Academy, we bring you an exhilarating opportunity to discover a whole new dimension of fitness through the captivating art of Muay Thai.
Muay Thai Academy: A Journey Beyond Ordinary Fitness
Welcome to Ramagya Sports Academy, where we believe that fitness is not just about lifting weights or running on treadmills; it's a holistic pursuit that encompasses physical strength[1], mental agility, and a deep connection to one's body. Enter Muay Thai, an ancient martial art form that's more than just a sport – a way of life. With our state-of-the-art Muay Thai academy and expert instructors, you can embark on a transformative journey that sculpts your body and hones your mental focus and self-discipline.
Why Choose Muay Thai Classes at Ramagya?
Full-Body Workout:

Muay Thai is renowned for its high-intensity and full-body workout. The dynamic movements engage every muscle group, helping you build strength, endurance, and flexibility.

Cardiovascular Fitness:

The rapid punches, kicks, and knee strikes in Muay Thai classes act as an intense cardiovascular workout, boosting your heart health and enhancing your overall fitness levels.

Stress Relief:

Unleash your stress and frustrations with each punch and kick. Muay Thai is an incredible stress reliever, leaving you feeling rejuvenated after every session.

Self-Defense Skills:

While honing your body, you're also mastering essential self-defense techniques. Muay Thai equips you with the confidence and ability to protect yourself if needed.

Mental Focus:

Muay Thai is more about mental prowess than physical strength. The art demands concentration, strategy, and quick decision-making, enhancing mental agility.

Community and Camaraderie:

Joining Muay Thai classes creates an instant bond with fellow enthusiasts. The sense of community and shared goals make the journey even more enjoyable.
Benefits of Muay Thai: Power, Precision, Perseverance
Muay Thai is a sport of discipline that nurtures qualities like determination, perseverance, and precision. Through rigorous training, you'll refine your physical abilities and cultivate mental resilience. As you master the techniques and techniques, you'll discover a newfound sense of self-confidence that transcends the training mat and permeates every aspect of your life.
Ramagya's Muay Thai Collaboration: KNOCKOUT FIGHT CLUB
Ramagya Sports Academy takes pride in its collaboration with the esteemed KNOCKOUT FIGHT CLUB, a name synonymous with over 15 years of expertise in training boxers and fighters. This collaboration gives you access to world-class trainers, cutting-edge facilities, and an immersive environment dedicated to honing your Muay Thai skills.
Unleash Your Potential with Ramagya's Muay Thai Academy
In a world where fitness choices abound, Muay Thai emerges as a distinctive path to holistic well-being. Ramagya Sports Academy invites you to step out of the mundane and explore the exhilarating world of Muay Thai. Our Muay Thai academy is not just a place for workouts; it's a sanctuary where you'll discover your strength, resilience, and the power that resides within you. As you embrace this martial art, you're not just learning techniques but embarking on a journey of self-discovery and transformation.
So, are you ready to trade the treadmill for the training mat? Join us at Ramagya Sports Academy and experience the stimulating world of Muay Thai – a path to fitness, empowerment, and a renewed connection to your inner warrior.